M&D Solid Surfacing Products


Made mainly by the solid surfacing material, there are wide range of the high grade products for different commercial space applications; within Mark & Daniel's business scope, there may be two major category products: the general solid surfacing products, and the modular product systems. There are a few good examples in our Showcase which may provide you the useful references while considering your own design, or you can also contact us anytime for M&D's professional feed backs to your demands.

The so-called general solid surfacing product here, refers to the products covered by larger area solid surfacing such as for cashier's counter, reception counter, coffee counter, washbasin, dessert kiosk, and so forth. According to actual need, customer may directly order for solid surfacing slates then shipping to the job-site for your own qualified installer to complete the product on-site or, letting M&D to complete the SKD components based on your design drawing first, then sending these components to the job-site for the qualified personnel to assemble/bound these parts as a whole product which may save you much man-hour with better quality product as the result.

The modular product system is mainly aimed to the chain-store type customers, using a variety of standard modules are shipped and assembled on job-site, and may be modified for these standard modules to fit for different job-site geometry; such as for some larger coffee stations and modular cashier's counter desks. The development and implementation of factory production modular system is proven a future trend since it may effectively cut down the time and the complexity of the job-site installation for speeding to open a new store; on the other hand, to successfully develop a modular system requires a larger time and money investment, also needing a good coordination with the design, engineering, facility and installation divisions and to complete the SOP documentation as well, so the customer must carefully consider the trade-offs for worthy or not.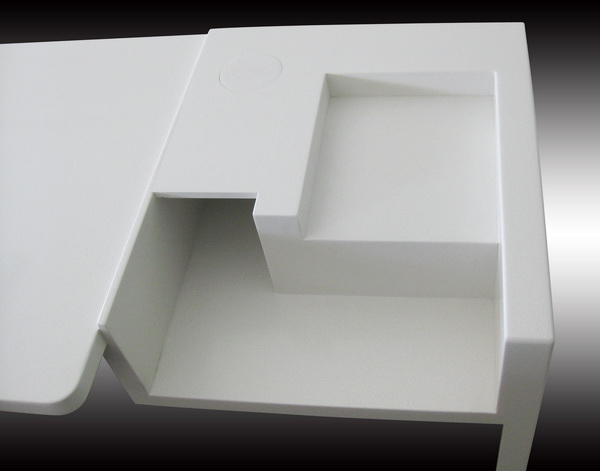 With their outstanding ability to develop the variety of customized products for interior decoration, even acceptable without needing very large quantity orders, the Mark & Daniel team is indeed the specialist for helping clients to solve the custom-product demands!